Charcot-Neuroarthropathy (Charcot), also known as hereditary motor and sensory neuropathy or peroneal muscular atrophy, consists of a group of disorders that affect peripheral nerves.
This disease often leads to deformities such as drop foot, hammertoes, and a collapse of the arch and joints in the foot.
The Metalogix® Revolution External Fixation System is designed as an orthopedic solution to treat these deformities, as a definitive solution during the often prolonged recovery period.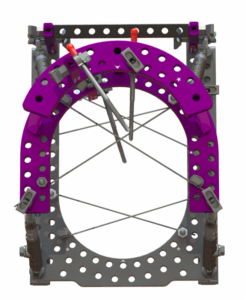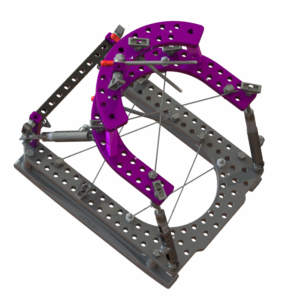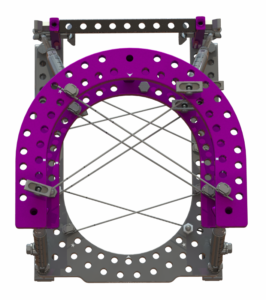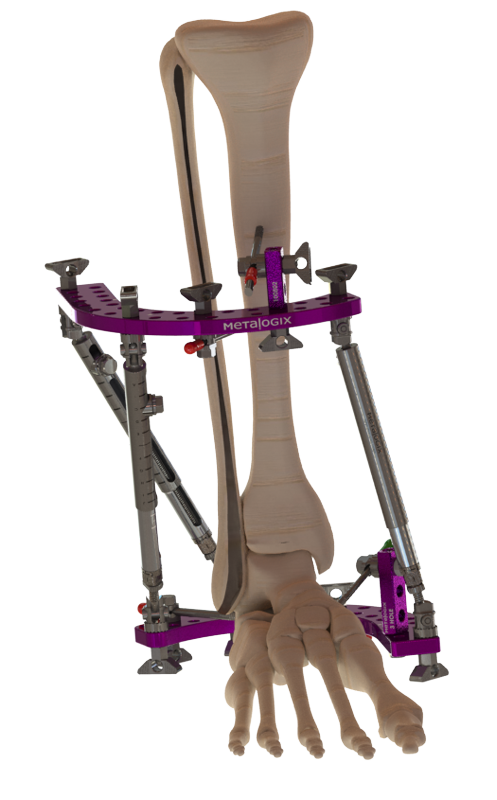 Orthoplastic Applications
Flap Protection. In basic terms, a flap is a portion of tissue that can be dissected, elevated, and inset into a nonanatomic position as a consequence of its vascular supply and outflow. The Revolution ExFx System can be used to hold bony structures at desired lengths and positions allowing for the transplant of the flap and left in place until the flap has integrated and/or removed at the surgeons discretion. Revolution also provides protection for peroneal brevis flap, sural artery flaps, free fibula grafts, delayed flaps, split thickness skin grafts and allograft applications. Allowing offloading for lateral ankle wounds, lateral leg wounds and anterior ankle wounds. Also providing clear view and easy access for vacuum assisted pump application and changes as well as further debridement's and grafting's.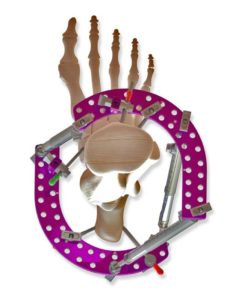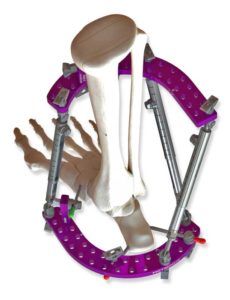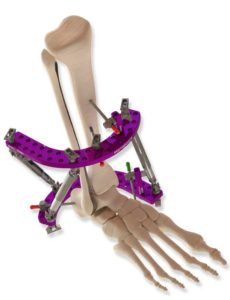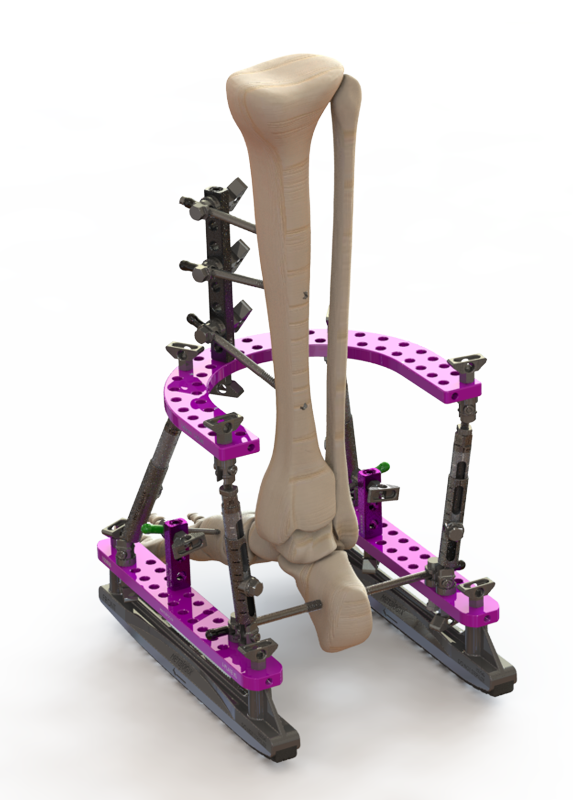 Ankle Trauma. In many cases where using external fixation to hold ankle fractures in place is required, the external fixator stabilizes the ankle until a second surgery for Open Reduction Internal fixation (ORIF) consisting of locking plates and screws is used. Revolution is designed to be the primary, definitive source of fixation replacing the need for a secondary ORIF surgery but can also be used as definitive treatment for immediate weightbearing in conjunction with ORIF.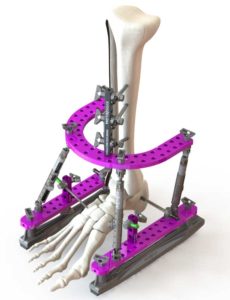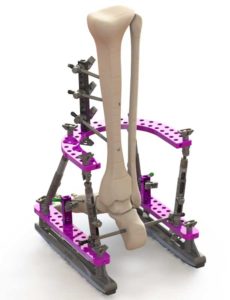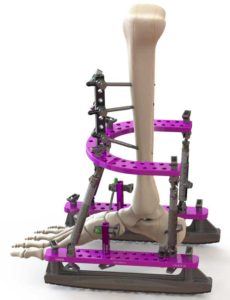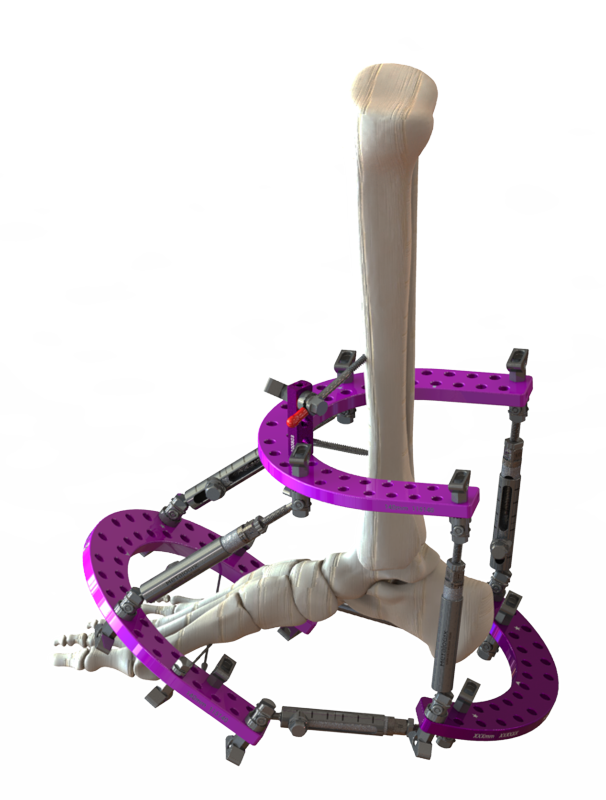 Wound Care. Open wounds or ulcers often resulting from diabetes can be treated using the Revolution External Fixation System as a way to protect the site and prevent weight bearing while graft or other means of treatment are pursued.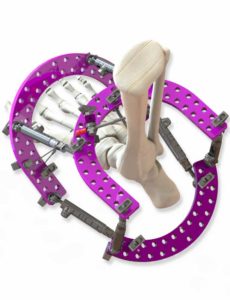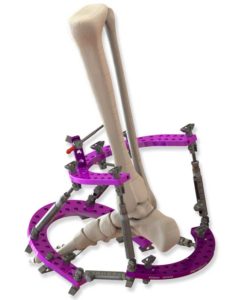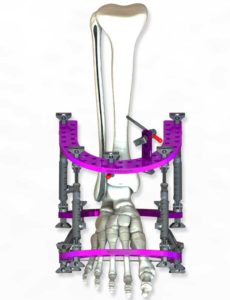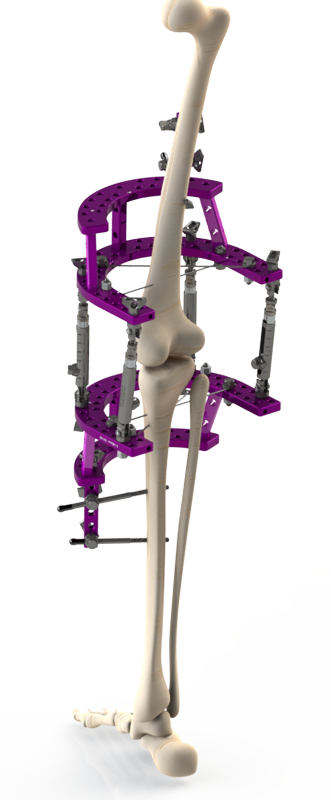 Knee Fusion/Knee Arthrodesis.
Knee Fusion/Knee Arthrodesis. The Revolution External Fixation System is an option of salvage treatment for failed total knee arthroplasty procedures, severe arthritis, and joint infection. The knee joint is fused together to form a solid bone of the femur and tibia. The advantages are versatility, being able to restore leg discrepancy and the ability to make angulation adjustments.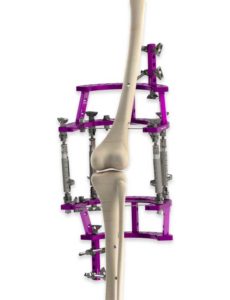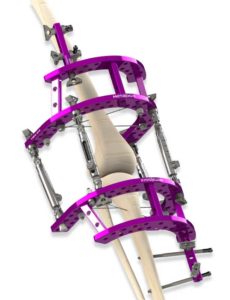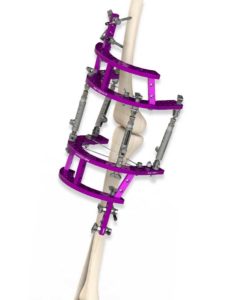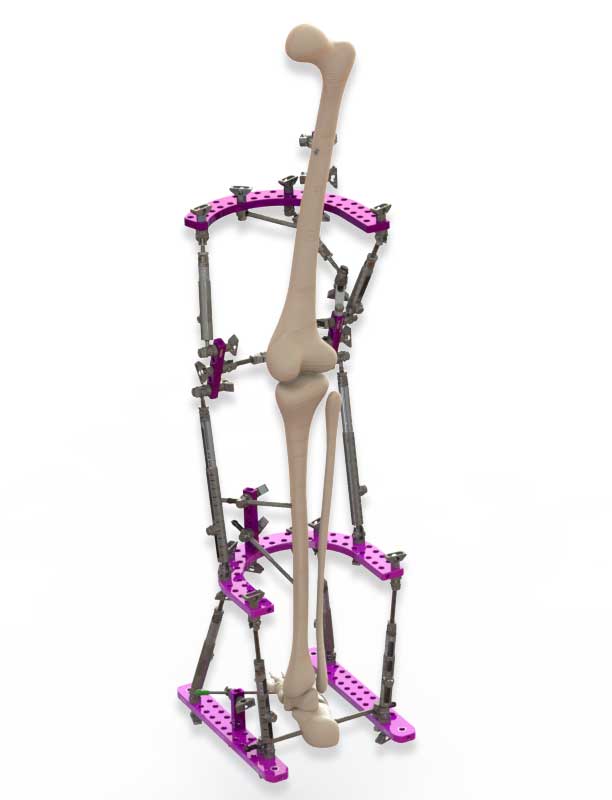 Knee Spanning Frame. A knee spanning frame is used on multiple complex injuries where the soft tissues need to be stabilized before definitive treatment is determined.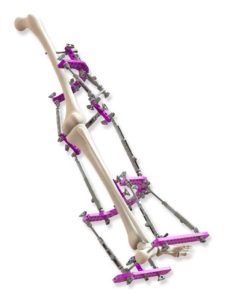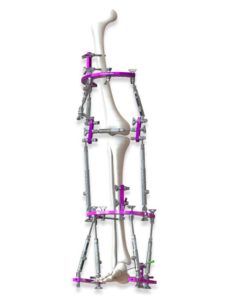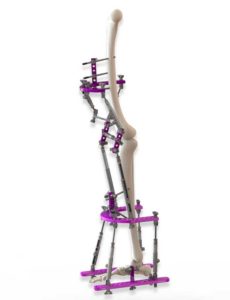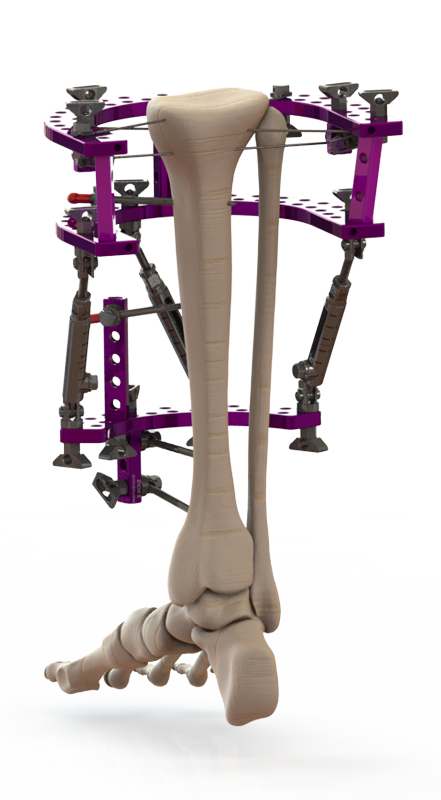 Tibia Plateau Fractures. Bicondylar, complex, comminute tibia plateau fractures can be managed with the Revolution External Fixation System. The open posterior design allows for knee flexion and stabilization of the fracture allows for ambulation and early weight bearing. Often the application allows for a reduction in the wound and soft tissue complications.